B- HOUSE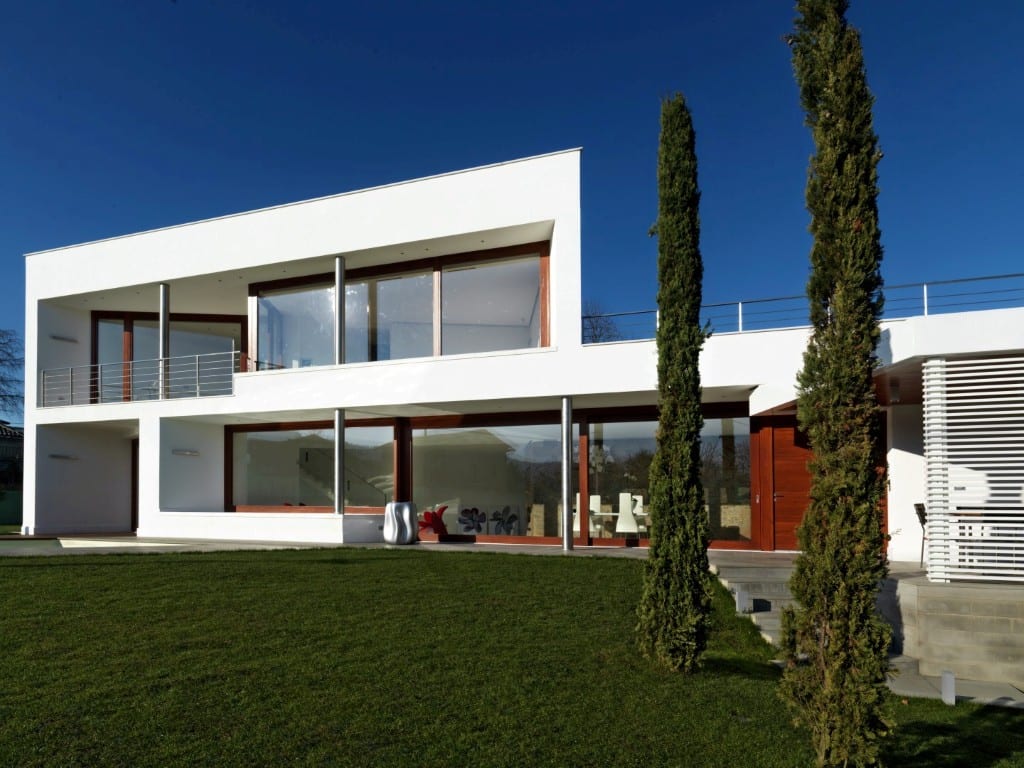 RELAZIONE
Un Fronte completamente svuotato caratterizza B-HOUSE, un rifugio senza segreti dove si è spettatori del paesaggio offerto dalle montagne piemontesi.
La casa si sviluppa orizzontalmente con un'infilata di locali che terminano nella cucina, vero e proprio binocolo puntato sul paese. Il volume in aggetto sovrasta l'accesso all'autorimessa e sorveglia l'ingresso alla proprietà.
In direzioni opposte, la casa si sviluppa a nord con il corpo delle camere in un'atmosfera più intima e intimista e a sud con la piscina, ampio specchio d'acqua, riflessi e luce.
Il piano abitato è uno spazio immacolato, corrotto dalla matericità di una parete in pietra fossile e dalle macchie di colore di alcuni arredi.
Il piano primo è riservato ai padroni di casa e ospita un'ampia camera, la cabina armadi e la sala da bagno.
I tetti piani sono ampi terrazzi, alternative sospese al relax del giardino.
La notte emergono le profondità dei volumi e le fughe evidenziate da tagli luminosi e contrasti chiaro/scuri.
IMPRESA COSTRUTTRICE
F.LLI FERRERO s.r.l., BEINETTE, CUNEO
MATERIALI:
PAVIMENTI INTERNI IN TAXOS GRECO a giunto chiuso, levigato sul posto
E IN LEGNO TEAK.
PAVIMENTI ESTERNI IN PIETRA ………….. 50X100
PAVIMENTO ESTERNI IN LEGNO TEAK
(FORNITURA: MARMI & PIETRE POINT, CUNEO)
SERRAMENTI IN LEGNO EMBLOCK LAMELLARE
(FORNITURA: COBOLA SERRAMENTI, BORGO SAN DALMAZZO, CUNEO)
GIARDINO
REALIZZATO DA DEZULIAN, BORGO SAN DALMAZZO, CUNEO
REALIZZAZIONI IN ACCIAIO INOX
DI F.LLI MONDINO, CUNEO
ARREDI:
CUCINA:
CUCINA ARCLINEA mod Convivium
SEDIE CUCINA DRIADE
(FORNITURA: SERENO DESIGN, CUNEO)
SOGGIORNO:
SEDIE B&B ITALIA
TAVOLO B&B ITALIA
LAMPADARI INGO MAURER
DIVANO EDREA MOD. CORBEILLE
POLTRONE EDRA GETSUEN
POLTRONA NERA DRIADE
(FORNITURA: SERENO DESIGN, CUNEO)
BAGNO PADRONALE:
VASCA TOSCO QUATTRO
LAVELLO BAGNO TOSCO QUATTRO
RUBINETTERIA TOSCO QUATTRO
TERMOARREDI TUBES
(FORNITURA: IDROTERM, CUNEO)
PORTE INTERNE RIMADESIO
SCORREVOLI RIMADESIO
(FORNITURA: SERENO DESIGN, CUNEO)
ILLUMINAZIONE:
LAMPADE INTERNE E ESTERNE DELTALIGHT
(FORNITURA: STUDIOLUCE, MONDOVì)
PROJECT DESCRIPTION
The house extends horizontally with a row of premises that end up with the kitchen, real field glasses pointed to the village. The above mentioned volume dominates the access to the garage and controls the entrance to the property. In opposite directions, this house develops northwards with the body of the rooms more intimate and intimist and southward with the swimming pool, a wide sheet of water, reflections and light. The living floor is a spotless space, corrupt by the materiality of a fossil stone wall and by blobs of colour of some furniture. The first floor is reserved to landlords and hosts a wide room, the wardrobe box and the bathroom. The roofs are wide terraces, alternatives hanging by relaxation of the garden. In the night come out the depth of volumes and leaks highlighted by luminous cuts and clear/dark contrasts.
SUSTAINABLE FEATURES
Structure in brick-cement
Installation of floor heating with accumulating and condensing boiler model ATAG (27000 Kg/cal)
Exterior wall: double course (interior course poroton 20 cm, air space 10 cm which is placed an board insulation made with 4 + 4 cm wool glass density 40 kg/m3, exterior course brick thickness 12 cm);
Production hot water with solar thermal vacuum tube "termomax"
Low emissivity glass (k <2) glass 4+4mm, air space 15 mm, glass 4+4 mm
Dehumidifying  Plaster
BUILDING MATERIALS:
Exterior floor: Indian grey stone;
Interior floor in the living room"white": Taxsos
Wall pannelling in the living room: Forest Brown
Interior and exterior wood floor: teak
MAIN FURNITURE
CONVERSATION AREA
Sofa Corbeille from Francesco Binfaré (Edra)
Armchairs Getsuen from Masanori Umeda (Edra)
chair More(e) leather from Philipp Starck (Driade)
Pouf: Koishi da Naoto Fukasawa (Driade)
LIVING ROOM
Ceiling lamp by Ingo Maurer mod. Zettel
Chairs B&B lazy '05 by Patricia Urquiola
KITCHEN
Kitchen Arclinea mod. Convivium
Chairs kitchen: DriadeStore le Meridiana by Christopher Pillet
Lamp mod. Campari by Ingo Maurer
Electrical: gaggenau.
BATHROOM (FIRST FLOOR)
Bath Tosco Quattro mod. Concerto
Washbasin: Tosco Quattro mod. Concerto
Taps and fitting Tosco Quattro
Shower Flaminia mod. Tatami
Heating by Tubes
Lamp by Ingo Maurer mod. Schiltz Up
Windows doors by Rimadesio.
External lighting by Deltalight
Sculpture vase by Serralunga
Light on the roof mod. "Havana" by Foscarini
TEAM PROFILE:
This practise of architecture is named after its founder Duilio Damilano who moved from Polytechnic of Turin to Milan, in order to follow a work- shop by Daniel Libeskind, where he's developed his concept of architectural research directed towards the concreteness of space.
His passion for volumes, instead, comes from a family of sculptors. His father and his brother have, in fact, passed on to him an interest for the plastic and material aspect of every sculpture or architecture. DuilioDamilano says that he's always been  attracted by architectures since childhood.
His design path begins from the study of the light and I how this affects and moulds the shapes.
"It is an instinctive vocation – says Duilio Damilano – a feeling that starts from deep inside and only at a later time is conveyed inside the channels of rationality. Certainly is something that's always been part of my approach to architecture and which goes into my entire project. I mean the kind of lighting that goes beyond the physical aspect of the luminous element  to become an integral part of the architectural design. A project can't peter out with the daylight".
After graduating in 1998 he began his professional career as associate and in 1990 he opened the Damilano Studio. Over the years his work has developed, through collaborations with artists and deigners, into new architectural paths. Major areas of interest of Damilano Studio are the design of residential buildings, offices and commercial and receptive structures, both in Italy and abroad.
An ongoing collaboration has occurred with the architects Claudia Allinio, Alberto Pascale, Enrico Massimino, Jessica Pignatta.
FICHA TÉCNICA:
Tipo de Proyecto:Residential house
Cliente:Private
Proyecto: DamilanostudioArchitects
Arquitecto: Duilio Damilano
Colaborador: Arch. Claudia Allinio
Fotógrafo: Andrea Martiradonna
Sobre el autor
Eugenia Ramirez